Latest News


December 2010

Technological Developments



ID Ingeniería has been awarded the sixth edition of Tenaris Prize granted to the Argentine Technological Development.

Our awarded Project is a System for the Detection of Vibration in Rolling Milling Process called "Chatter Detection System"".

This contest, since 2005, has been giving a prize to the best technological development projects supporting Argentine SME's related to metal mechanics, energy, petrochemical, mining and auto-parts sectors.

The objective of our project is to increase productivity and production in steel milling avoiding scrap and therefore diminishing costs and increasing profitability.

This acknowledgement is a prize to our ongoing and renewed commitment with technological development which encourages us to develop new technologies.

CHATTER DETECTION SYSTEM

Hardware and software modular implementation necessary for chatter detection in rolling mills by monitoring conditions.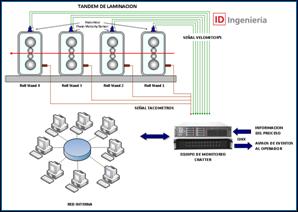 The operation principle is based on the acquisition of signals emitted by sensors through the MTI On-Line system and the treatment of those by software specific for this functionality developed by ID Ingeniería.

This system allows data processing, visualization and storage in real time by pre-configured triggers, alarms going off or by pre-scheduled or Off-line analysis.
DIAGRAM OF THE MODEL
Process data are also obtained by the system and integrated into the variables above mentioned.

This system allows performing a diagnostics of chatter problems and therefore providing the operator with the best tool for decision making.

The goal of this system is to identify those frequencies that produce defects affecting product quality. Additionally, this allows avoiding downtime generated at the moment vibration starts and consequently diminishing costs, increasing productivity and profitability.